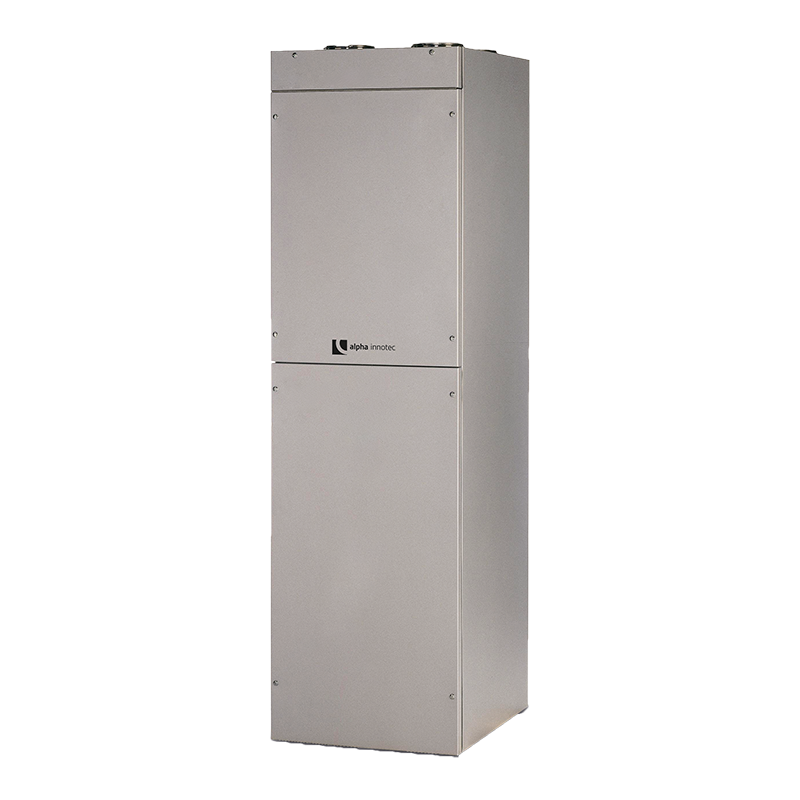 alvento LLB-series – active ventilation systems with domestic hot water preparation
LLB 317B
Article Number 15640101
alvento LLB-series - active ventilation system with domestic hot water preparation integrated
All in one - ventilation, temper and domestic hot water.
The LLB-series stands for everything you need for comfortable living. Ventilation, temper and domestic hot water preparation. The recovered heat content of the exhaust air will be used to prepare the domestic hot water. If necessary, the supply air will be heated. A priority circuit ensures that the warming of domestic hot water has always the highest priority. The high efficient countercurrent heat exchangers achieve heat recovery rates of 80 %. The additional heating is done by the heat pump.


For faster installation, the system comes with the following components:
Countercurrent heat exchanger
Filled with flourinated greenhouse gas (R 134a)
Powder-coated (RAL 9006 white aluminium)
Double-walled case with 30mm insulation
Additionally delivery:
Air connection on top 160 mm
EC centrifugal fans for supply and exhaust air
F5 cartridge filter for supply and exhaust air
Supply air connection backside right
Domestic hot water tank 185l
Tube heat exchanger with 0,8m² exchanger surface for integration of a second heat exchanger
Controller
Optional iF7 pollen filter for the supply air
LLB 317 B
Recommended for living spaces up to 170 m²
Minimum air quantity 100 m³/h
Maximaum airflow 370 m³/h - 100 Pa external pressure
Heat recovery and Zulufttemperierung
Passive house certified (LLB 317 B)
Automatic bypass
LLB 317 BE
Recommended for living spaces up to 170 m²
Minimum air quantity 100 m³/h
Maximaum airflow 370 m³/h - 100 Pa external pressure
Heat recovery and Zulufttemperierung
Automatic bypass
Additionally with enthalpy heat exchanger (LLB 317 BE)
Greenhouse gas

Type
Refrigerant
Capacity
[kg]
GWP value
CO2-equivalent
[t CO2]
LLB 317 B
R134a
1,0
1430
1,43
LLB 317 BE
R134a
1,0
1430
1,43
| | |
| --- | --- |
| Article Number | 15640101 |
| Equipment designation | LLB 317B |
Possible energy efficiency classes
Space heaters (35° C, 55° C): A+++ to D Ӏ Combined space heaters: A+++ to G Ӏ Combi heaters: A+++ to D Ӏ Hot water preparation: A+ to F Ӏ Combination combi heaters: A+++ to G Ӏ Hot water tanks: A+ to F Ӏ Domestic hot water preparation: A+ to F Ӏ Ventilation: A+ bis G