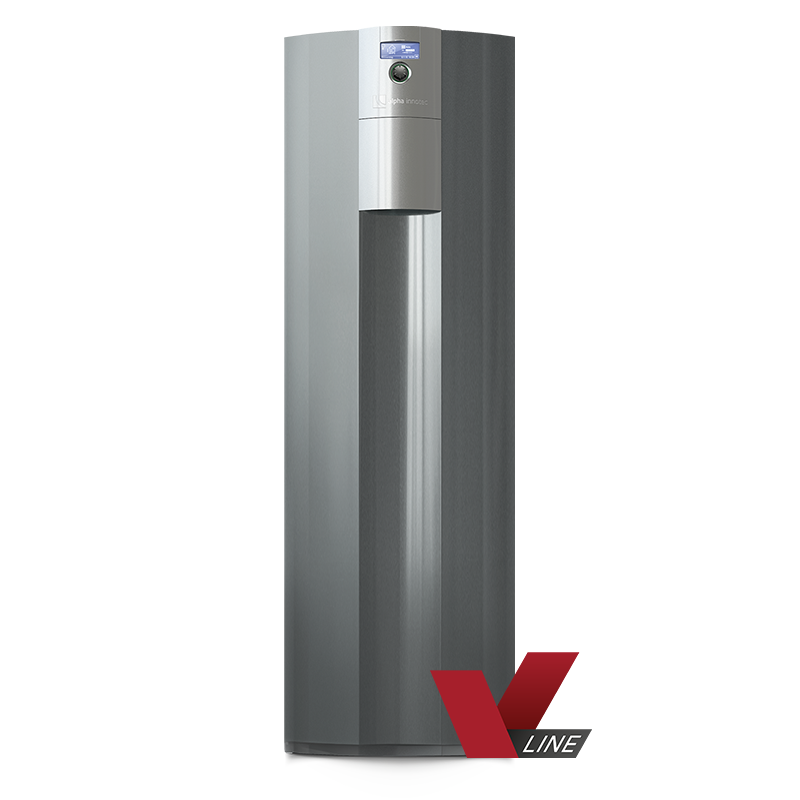 alterra WZSV-series – ground source inverter heatstations for indoor installation
WZSV 62K3M
Article Number 10072241
The space saver - the entire heating system on half a square meter.
Operating limit flow temperature 20°C to 65°C
Recommended range of application heat source -5°C to 25°C
The heat pumps are recommended for the following total heating demand:
WZSV 62H(K)3M = ca. 3-6kW; WZSV 92H(K)3M = ca. 6-9kW; WZSV 122H(K)3M = ca. 9-14kW.


For faster installation, the system comes with the following components:
Domestic hot water tank 178 l with impressed current anode
(flow rate 240 l - ErP 40 °C, removal of 10 l / min)
Heat pump controller Luxtronik 2.1
Energy efficient circulation pump
Switching valve heating and domestic hot water preparation
Overflow valve heating circuit
Electronic heating element for support during heating operation and domestic hot water preparation
(6 kW: WZSV 62H(K)3M and WZSV 92H(K)3M; 9 kW: WZSV 122H(K)3M)
vibration decoupling brine and heating circuit
Shut-off valve for the heat source circuit
Heat quantity recording
Refrigerating circuit in module box (can be removed for bring in)
Free Cooling (K-series)
Filled with fluorinated greenhouse gas R407C

Additionally delivery:
Shut-off valve (fill and drain valve) heating circuit
Outdoor sensor

Necessary accessories:
Safety assembly and expansion vessel for the heating circuit
Safety assembly and expansion vessel for the heat source circuit
| | |
| --- | --- |
| Article Number | 10072241 |
| Equipment designation | WZSV 62K3M |
| Capacity for heating (kW) | 3,32 (B0/W35 part. load) |
| COP | 4,86 (B0/W35 part. load) |
| Max. flow temperature | 65 |
| Cooling | Yes |
| Heat source | S/W |
| Indoor/ Outdoor installation | Indoor installation |
| Detached/semidetached house | Yes |
| Multiple dwelling | No |
| Industrial building | No |
| New building | Yes |
| Refurbishment | Yes |
| Seasonal space heating energy efficiency ƞs (35°C) | 199,4 |
| Seasonal space heating energy efficiency ƞs (55°C) | 149,9 |
| Seasonal water heating energy efficiency class(the package of combination heater, temperature control and solar device) | A |
Possible energy efficiency classes
Space heaters (35° C, 55° C): A+++ to D Ӏ Combined space heaters: A+++ to G Ӏ Combi heaters: A+++ to D Ӏ Hot water preparation: A+ to F Ӏ Combination combi heaters: A+++ to G Ӏ Hot water tanks: A+ to F Ӏ Domestic hot water preparation: A+ to F Ӏ Ventilation: A+ bis G