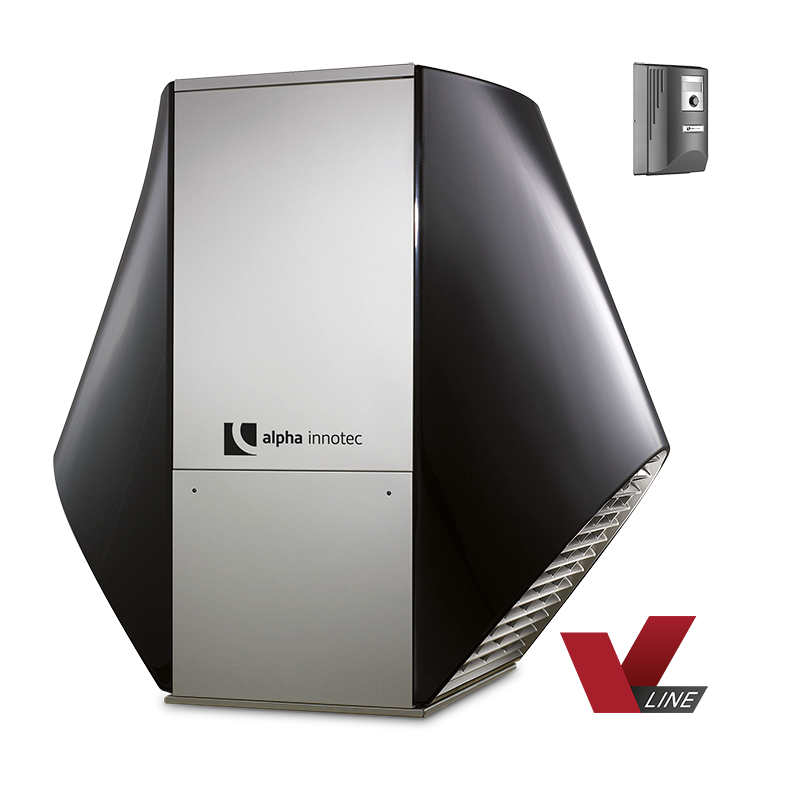 alira V-line - LWAV(+) series – air/water inverter heat pumps for outdoor installation
LW161H-AV-WR 2.1
Article Number 100649WR2101
The stylish one - heat economically and powerfully.
Application limit heating water flow temperature 20°C to 65°C
Recommended application range heat source -20°C to 35°C
The devices are recommended for the following total building power requirements:
LW 161H-AV = approx. 16-19kW


For faster installation, the system is equipped with the following components at the factory:
Filled with fluorinated greenhouse gas R410A
Equipped with all safety devices
weather resistant
heat quantity measurement

Additional scope of delivery:
heat quantity measurement and 9kW electric heating element
Energy efficiency circulation pump for heating circuit and domestic hot water preparation
outdoor sensor
WR 2.1-1/3 - Wall controller with microprocessor and integrated heating controller Luxtronik 2.1, outdoor temperature sensor, diagnostic program and operating hours counter.
For communication between the heat pump and controller, a bus cable is required, which must be provided by the customer (I (Y) STY 2 x 2 x 0.6 mm2).
| | |
| --- | --- |
| Article Number | 100649WR2101 |
| Equipment designation | LW161H-AV-WR 2.1 |
| Capacity for heating (kW) | 8,1 (A2/W35 part. load) |
| Capacity for heating 2 (kW) | 5,8 (A7/W35 part. load) |
| COP | 4,2 (A2/W35 part. load) |
| COP 2 | 4,33 (A7/W35 part. load) |
| Max. flow temperature | 65 |
| Cooling | No |
| Heat source | L/W |
| Indoor/ Outdoor installation | Outdoor installation |
| Detached/semidetached house | Yes |
| Multiple dwelling | Yes |
| Industrial building | No |
| New building | Yes |
| Refurbishment | Yes |
| Seasonal space heating energy efficiency ƞs (35°C) | 171,9 |
| Seasonal space heating energy efficiency ƞs (55°C) | 133 |
| Seasonal space heating energy efficiency classAverage 35°C | A++ |
| Seasonal space heating energy efficiency classAverage 55°C | A++ |
| Seasonal space heating energy efficiency class(the package of combination heater, temperature control and solar device) | A++ |
Possible energy efficiency classes
Space heaters (35° C, 55° C): A+++ to D Ӏ Combined space heaters: A+++ to G Ӏ Combi heaters: A+++ to D Ӏ Hot water preparation: A+ to F Ӏ Combination combi heaters: A+++ to G Ӏ Hot water tanks: A+ to F Ӏ Domestic hot water preparation: A+ to F Ӏ Ventilation: A+ bis G