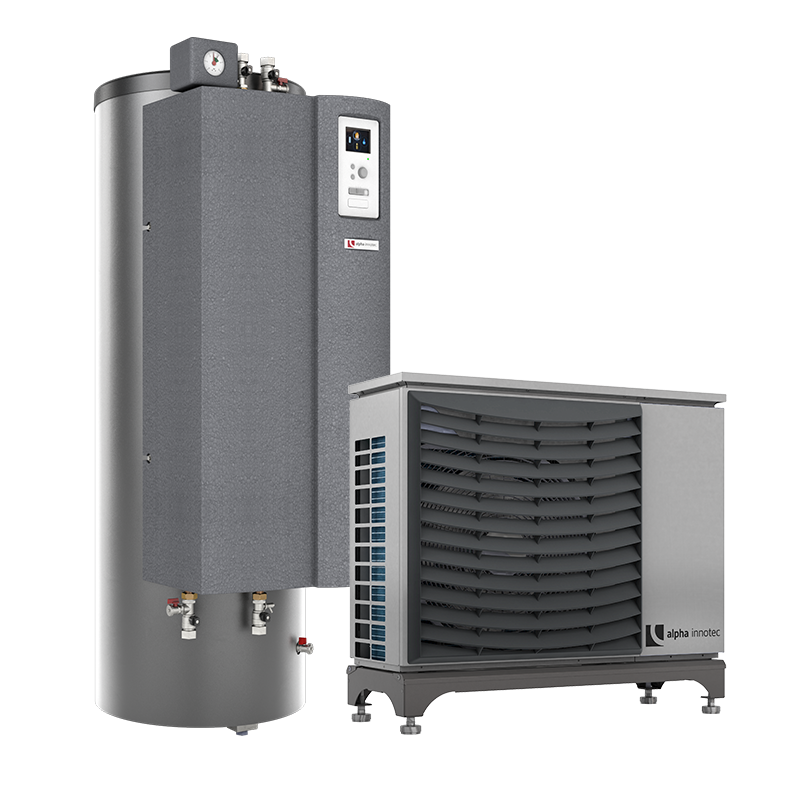 Jersey-series – air/water inverter heat pump for outdoor installation
Jersey 5-1
Article Number 1007984101
The economical monobloc heat pump..
Operating limit flow temperature 20°C to 70°C, up to 65°C with additional heating
Recommended range of application heat source -20°C to 43°C
The heat pump is recommended for the following total heating demand:
Jersey 5 = approx. 7kW; Jersey 7 = approx. 9kW


For faster installation, the system comes with the following components:
Controller HPC with display
Hydraulic Tower
Electric heating element to support heating and domestic hot water charging
Energy efficiency circulating pump
Expansion vessel
Heat quantity recording
to meet BEG guidelines (not for operating cost billing)
Safety module
Room temperature sensor
Outdoor temperature sensor
Switching valve
Overflow valve
Buffer tank
Filled with fluorinated greenhouse gas R410A
Functional accessories
Hydraulic Tower - HT 7
Hydraulic tower up to 7 kW, with heat pump control HPC, electric heating element 6 kW, buffer tank 62 liters, enameled domestic hot water tank 180 liters, sacrificial anode, domestic hot water switching valve, overflow valve, expansion vessel 12 liters and energy efficiency heating circulation pump, safety assembly, insulation housing, outdoor sensor, shut-off valves and heat quantity measurement.
Optionally suitable for cooling up to +18 °C flow temperature. Cooling is deactivated at the factory and can be activated by the installer during commissioning if required.
| | |
| --- | --- |
| Article Number | 1007984101 |
| Equipment designation | Jersey 5-1 |
| Capacity for heating (kW) | 2,32 (A2/W35 part. load) |
| Capacity for heating 2 (kW) | 2,61 (A7/W35 part.load) |
| COP | 4,2 (A2/W35 part. load) |
| COP 2 | 5,03 (A7/W35 part. load) |
| Max. flow temperature | 58 |
| Cooling | Yes |
| Heat source | L/W |
| Indoor/ Outdoor installation | Außenaufstellung |
| Detached/semidetached house* | Yes |
| Multiple dwelling* | No |
| Industrial building* | No |
| New building* | Yes |
| Refurbishment* | Yes |
| Seasonal space heating energy efficiency ƞs (35°C) | 178,4 |
| Seasonal space heating energy efficiency ƞs (55°C) | 134 |
| Seasonal water heating energy efficiency class(the package of combination heater, temperature control and solar device) | A |

NOTE
The operating instructions of the functionally necessary accessories such as hydraulic module or hydraulic station are stored in the "Downloads" tab under "ACCESSORIES".

* The data are only recommendations. Depending on individual circumstances, a heat pump with a lower heating capacity may also be suitable for larger buildings and vice versa. In addition, it is possible to connect several heat pumps together and thus increase the heating capacity. Finally, a precise individual calculation is required to select the really suitable system for the project.

Possible energy efficiency classes
Space heaters (35° C, 55° C): A+++ to D Ӏ Combined space heaters: A+++ to G Ӏ Combi heaters: A+++ to D Ӏ Hot water preparation: A+ to F Ӏ Combination combi heaters: A+++ to G Ӏ Hot water tanks: A+ to F Ӏ Domestic hot water preparation: A+ to F Ӏ Ventilation: A+ bis G

Technical changes and errors excepted